Discover more from From Japan to the world: Building a profitable product
The long journey to make a product and having a new life in a new country
I am just trying to make AskMakers better
AskMakers💡
📣 I have a good way to get feedback on your product
Do you know Pioneer - A fully remote accelerator!?
This is founded by Daniel Gross, a partner at Y-Combinator.
In Pioneer, there is a tournament every two weeks, and participants try to earn points as much as they can.
High ranked participants can be selected by Pioneer and they take care of you.
In pioneer, participants need to give other participants' product feedback every week to earn points, and because of this system, I think Pioneer is a good place to get feedback!
For instance, these are the feedback on AskMakers I got last week.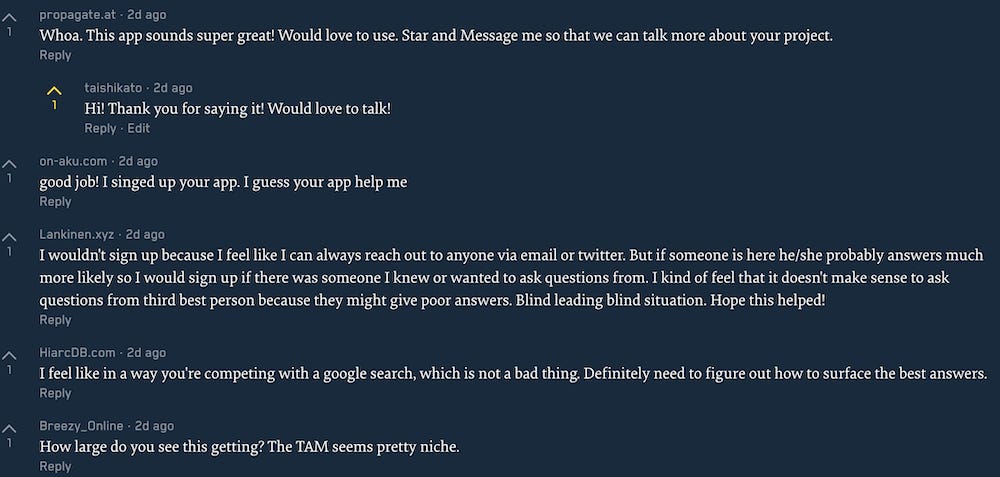 You can get this feedback every week!! Its great isn't it👏!?
I put my referral link here.
https://pioneer.app/join/taishikato
With a referral link, you can join Pioneer with additional points.
🔝 Update on AskMakers this week.
Add the mark for featured makers ✅

Add comment feature 💬

Two new users everyday 👥

Send an email notification when the user adds a comment on your answer

Send an email notification when the user upvotes your answer 📧
I think I need to figure out the core value AskMakers may be able to offer, which makes it different from the competitors (such as Indie Hackers).
I have a plan to launch AskMakers 2.0 because it's been about 10 months since the last launch and AskMakers is very different from before.
I already think about AskMakers 3.0, which is going to have a feature I have been thinking!
Stay tuned✌️
P.S.
I started a blog on my own domain with Gatsby! Please check it out🙏